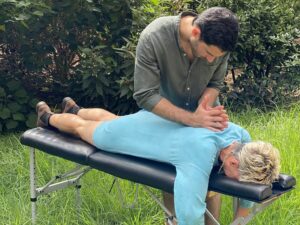 Chiropractic is a manual therapy that relies on a holistic approach to health-care, and supports the body's own ability to self-regulate and heal. It aims at preventing illnesses and improving overall health and function. In essence, chiropractic focuses on the nervous system, and its optimal functioning, by removing interferences (that chiropractors call "subluxations") caused by stressors. Indeed, our bodies sometimes have to recover from falls or occasional sleepless nights, but many stressors are part of our daily life without us noticing them. Bad posture, poor diet or smoking are also harmful habits that the body has to overcome. Chiropractors consider these physical, chemical and emotional stressors as potential disruptors, leading the body to offset their noxiousness at the expense of the nervous system. 
In their practice, chiropractors pay special attention to the spine as it wraps and protects the spinal cord, which is actually an extension of the brain into our bodies. They more precisely detect and correct subluxations in the spine and may do so using a variety of techniques. As they lose their correct biomechanics, subluxated vertebrae  most often cause neurological interference. Although each technique addresses them differently, they all aim at restoring both movement and function. 
The reason why focusing on the nervous system is so important is simply because it is the nervous system that governs and controls any other system in the body. It is our nervous system that takes care of our heartbeat, our breath, our digestion, the balance of our hormones and even our mood. Let your nervous system express itself the way it needs it and you will have the chance to meet the best version of yourself!